What's new on the My Brewbrain platform?
Last year, Brewbrain collaborated with graphic design agency Kordaat on the rebranding of our visual identity. With this, they not only designed our corporate website, but also did a total make-over of the My Brewbrain-platform.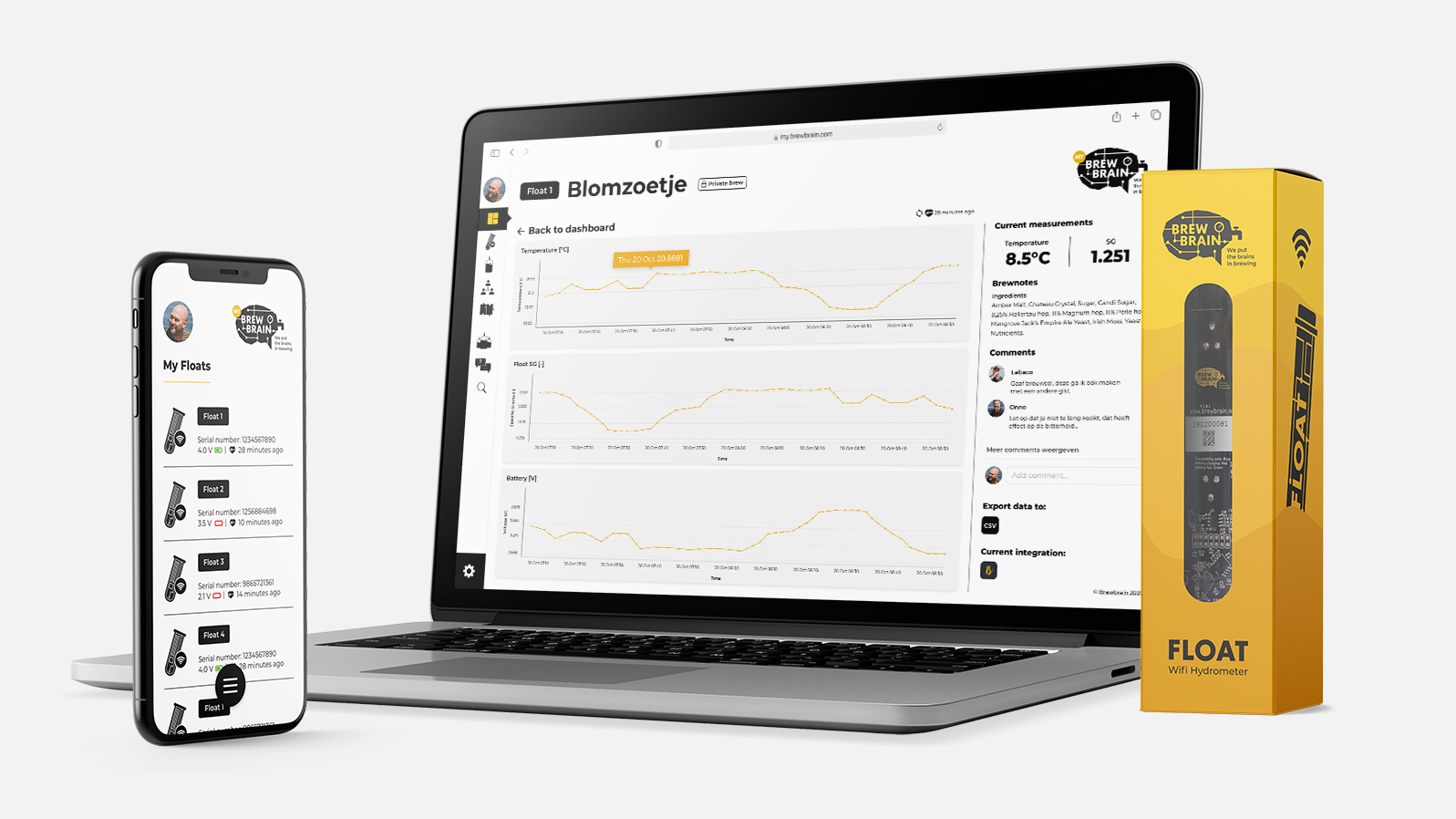 What's changed?
The result is a new logo along with new typography for a more consistent and modern look and feel. The update of My Brewbrain is significant, we've made it easier for brewers to monitor and present their data on a mobile device or a desktop computer. Soon we will start working on the release of an app in the stores, but the option for creating an app is already possible. Check out the next blog to get the "how to" instructions.
Starting from this point we will continuously develop new features in the My Brewbrain platform. The platform contains blocks with information, called Brewblox. In the future we will create several options to configure these according to your needs. Other upcoming Brewbrain products will also present their data in the same Brewblox, with different data. All your brewing data together, in one screen!
Introduction
I would like to do a small introduction into the new platform, in the upcoming blogs I will walk you through the platform in more detail. The screen has a new navigation pane with your dashboard, Floats, brews, groups, integrations and a help & FAQ.
Dashboard
The dashboard is divided in two parts; "Your recent brews" and "Recent public brews". When you would like to see the details of your brew, click "View details" and the screen of the selected brew will open. Here you can zoom into the data of your temperature, SG, and battery graphs. On the right part of this screen you can write some notes or export your data.
My Floats
Go to My Floats to get an overview of the status of the products you own. Battery, Wifi strength and heartbeat will give you direct information. Selecting one Float makes it possible to start a brew and view or manage settings.
My Brews
In the My Brews section all the brews you made are stored. This helps you if you want to reproduce a fermentation or to optimise it.
My Groups
Groups can help you to share your data with different users. Do you have a club or group of friends? Share the data together. People who don't own a Float can also register for free and join a group to watch the active fermentation of brewing friends!
My Integrations
When there is need for integration with third-parties, like Brewfather or Grainfather, you can choose to share your data with the desired party. An easy guide will help you to set this up.
Help & FAQ
The last section is Help & FAQ. We would like to give our customers the best experience as possible, if you need help here you can find most solutions for your issues.
Are you interested to check out our new platform? You can take a look around with the guest account option.
Brewbrain will keep you up to date with different blog posts with different subjects from new products to experimental tests, how-to's and detailed recipe interviews.
Cheers, Bart