Log everything! – with the Neuron measurement hub
We will soon start selling the Neuron in stores – a tool that will make your brewing process a walk in the park!
Brewing beer is a complex, time-consuming and delicate process in which every step has a certain purpose and is to be executed with care. Oftentimes making beer is a race against the clock in which an extra hand is very helpful.
To make this process more easy, we developed the Neuron.
Mashing might take up to a few hours and if you deviate too far from the temperature schedule, your brew might not turn out how you want it to. See what's happening during your mash by using the Neuron to measure temperature at multiple locations in your kettle using multiple temperature probes.
The fermentation process is a cumbersome step which easily takes more than a week. What a waste it would be to mess this up.
Get a better grip on your fermentation by measuring CO2, pH, ORP, and pressure.
So your brew is done, but are you storing it correctly? Measure the humidity and temperature of the room the Neuron is in.
You've already got sensors laying around and don't want to spend money on new ones? Hook up your own analog and/or digital sensors, and record the data to your free My Brewbrain account using the same Neuron.
We currently have the following set available for order in Europe only, for EUR 100 ex shipping:
– 1x Neuron measurement hub, which measures room temperature (acc. ±0.5 °C) and humidity (acc. ±3% RH)
– 1x Power adapter 100- 240 V 50/60 Hz, plug type C
– 1x Food-safe, water-proof temperature probe with 5m cable (acc ±0.5°C, usable from -40 to + 110 °C).
Additional probes are available for EUR 30.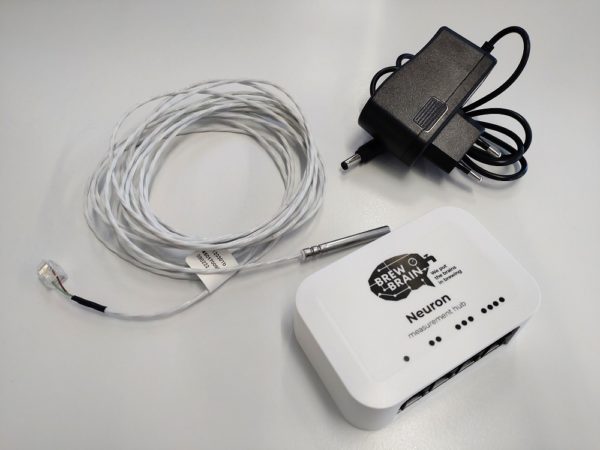 Interested? Send us an email via neuron_sales@brewbrain.nl
Keep checking our blog – we will let you know when the other features are available for sale.
Cheers!
Eric